Waterproof panels see rapid growth at the expense of wall tiles
Recently, we've noticed that the use of shower panels as an alternative to tiles has been a growing trend, so we decided to do some market research into this sector.
This article first appeared in DIY Week's feature on tiles & tiling, published in June 2019:
The market for tiles is mature, and although it is growing in value terms, market conditions have become more challenging since 2016/17 as competition from online-only retailers and price pressures have increased, with the cost of imported goods rising and manufacturers unable to pass the increase down the supply chain.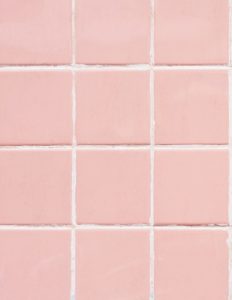 The UK tile market is subject to a very high level of import penetration, and industry estimates indicate that up to 80% of all tiles are imported, predominantly from European suppliers. The loss of British Ceramic Tile, which was the UK's largest manufacturer of ceramic wall and floor tiles, in January 2019 has meant that the UK manufacturing base is now extremely limited.
According to AMA Research, the total market for floor and wall tiles in the UK was worth just over £500m at manufacturers' selling prices in 2018, with ceramic and porcelain tiles dominating the product mix and natural stone accounting for around a fifth of the market by value.
Despite some Brexit-related uncertainty in certain key end-use sectors, the housing market has performed relatively well, and the trend towards improving rather than moving continues to positively influence the market for tiles.
The trading up by householders to higher value products and new designs has also contributed positively to the market in value terms. Improvements in digital printing technology has led to the development of product ranges with more innovative designs and textures, as well as a reduction in production turnaround times, which has led to manufacturers being able to offer short runs, bespoke ranges and even custom printing.
Wall tile trends in 2019 include a longer, narrower shape of tile, as well as other non-standard sizes and shapes, brighter colours and shades inspired by the 70's, such as mustard, chocolate and green, with colour-matched grout also a feature. Bold patterns and industrial designs and textures are also popular.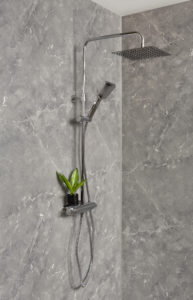 The market also continues to benefit from the trend for fully tiled bathrooms and wetrooms, though a move away from tiles towards metal, glass and acrylic splashbacks in kitchen areas is restricting market growth somewhat. In the past 2-3 years, waterproof so called 'wetwall' panels have also become more popular as a substitute for tiles in the bathroom, and recently this market has seen exceptionally strong growth, in particular in the residential refurbishment sector.
Reasons for the recent growth include a wider range of materials becoming available, as well as a wider choice in terms of designs, patterns and textures. Acrylic panels represent a fast growing, and relatively high-value, segment of this market. While companies serving the lower end of the market tend to focus on a narrow range of styles, such as plain white, black/grey and sparkle or glitterwalls, marble styles have also been popular with older buyers, as have panels replicating the look of tiles or glass.
Some brands have launched bolder and more exciting designs to attract younger buyers, including bright colours and metallic shades, as well as bespoke 'photowall' options. Another new development has been the introduction of designer ranges, as in the wallpaper market, where panel designs are created by recognised designers.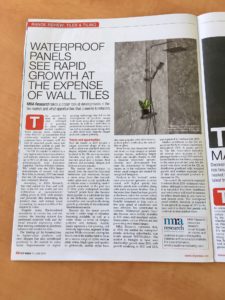 Products in the 'wetwall' sector have also moved upmarket to some extent, with higher quality and slimline panels now available, along with more exclusive finishes. But at the same time, there has been growth at the lower end of the market, where increasing awareness of the products' benefits compared to tiles, such as low cost, speed of installation and easy aftercare, has contributed to demand. Waterproof panels have also become more widely available in DIY stores and merchant outlets. Some outlets, such as Wickes, are also promoting own brand ranges.
MRA Research estimates that in 2018, the market for waterproof panels, including splashbacks, was worth around £60-70m. The market is thought to have seen double digit growth since 2016, with growth escalating in 2017 and 2018, and expected to continue into 2019.
Market conditions in the UK tile sector are likely to remain challenging throughout 2019. A recent survey by The Tile Association indicated an average sales increase of 4.8% among retailers in Q1 2019 and 4.9% for its distributor members, compared to the same period last year, but the mood was more cautious for Q2, as distributors predicted only marginal growth and retailers expected sales of tiles and associated products to decrease by 5%.
The overall tile market is expected to remain flat in 2019 – at least in value terms – although in the medium term it is inevitable that both distributor and retail prices will need to increase to reflect recent rises in raw material and import costs. The waterproof panel market, however, is expected to see growth in excess of 10% in the year and it is likely that panels will continue to take market share.
MRA Research focuses on market and customer insight in the building materials and construction markets. For more information, email anna@mra-marketing.com.