BMBI listed as data source by Department for Business, Energy & Industrial Strategy
The latest Monthly Construction Update from the Department for Business, Energy & Industrial Strategy highlights the Builders Merchant Building Index (BMBI) as one its sources. Featured alongside highlights from the ONS, CPA, OBR and the Bank of England, it's another milestone for BMBI.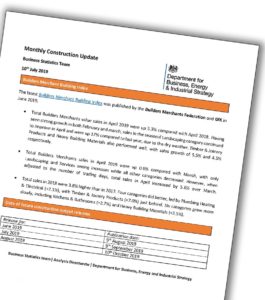 When we launched BMBI in 2015 we aimed to make it a recognised construction index recognised and used in construction and beyond by economists, business, Government, and the media. Last week BMBI achieved this milestone,
BMBI, a brand of the BMF, is the most reliable source of data for the RMI market. It reports on merchants' sales to builders and other trades using data from over 80% of generalist builders' merchants, by value. The merchants provide sales data to GfK's ground-breaking Builders Merchant Panel and MRA Marketing uses this data to produce monthly and quarterly reports.
Leading industry experts are also a key part of the Index, speaking for their markets, explaining trends and adding context to the data.
The report is available for download from Construction Leadership Council's website.
Download Construction Update Report