Slowdown in builders' merchants' sales in Q2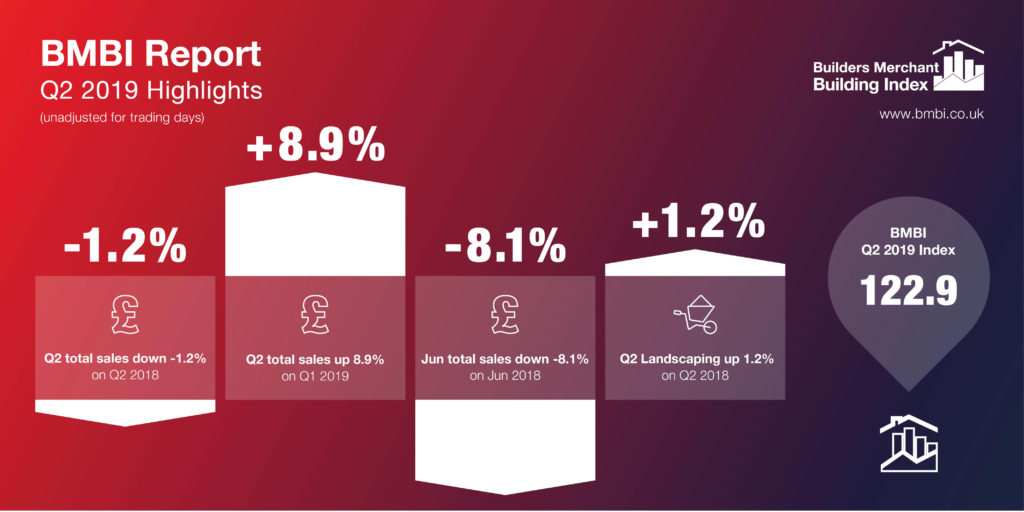 Year on year
Following a strong start to the year, Total Builders' Merchants' value sales to roofers, builders and contractors were down -1.2% in Q2 2019 against the same period last year. However, the adjusted figure, which takes into account differences in trading days, was marginally positive at +0.4%.
Value sales of Heavy Building Materials, the largest category, declined by -1.6% year-on-year. Landscaping products was the best performing category, rising by +1.2%.
The negative quarterly figure was heavily influenced by poor trading towards the end of the period, with overall sales in June down -8.1% compared with the same month last year. Most product categories recorded a negative performance. Monthly sales over May 2019 were also down by -9.4% on one less trading day.
Quarter on quarter
Quarter-on-quarter, however, the picture is more positive. Total Builders' Merchants' sales in Q2 2019 increased by +8.9% compared with Q1, and average sales a day (which takes into account the difference in trading days) were up +12.5% over the same period.
Index
June's BMBI index was 117.2, with Landscaping (146.6) the top performing category.
Comment
Emile van der Ryst, Senior Client Insight Manager for Trade at GfK said: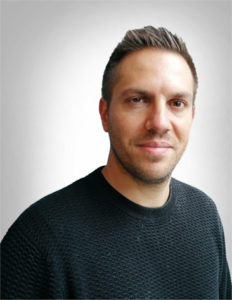 "The exit of Theresa May, arrival of Boris Johnson and the passing of two Brexit deadlines has impacted business and consumer confidence in 2019. However it is the noticeable effect that weather has had on the industry over the past 18 months that stands out. Q2 2019 saw a decline of -1.2% in value terms against Q2 2018, but this is exclusively driven by the month of June. June 2018 will be remembered for extreme heat and a lack of rain, while 2019 saw most of England and Wales with a higher rain fall than average, alongside one less trading day resulting in June 2019 being down by -8.1% year on year. Furthermore Q2 2018 sales spiked due to Q1 external construction delays following the Beast from the East, so assessing Q2 2019 too harshly would be wrong.
"The topline value indicator for Q2 2019 vs 2018 shows Timber & Joinery stable at -0.1%, balanced against minimal Timber increases and a slight decline in Sheet Materials. Heavy Building Materials has declined by 1.6%, with highlights including growth for Plaster & Plasterboards and Insulation and a decline in Aggregates.
"Year to date figures still show value growth against 2018, but this has slowed down to 2.1% with price inflation the driver as volume continues to slow. The core sectors of Heavy Building Materials and Timber & Joinery have driven most of this growth, increasing in value by 2.2% and 3.1% respectively. Landscaping remains the best performing, up by 6.5% however Tools has shown a sluggish performance down by -4.9%.
"Core sub-categories within these main categories are driving this performance and provide a positive indicator that the market continues to plug away, with Bricks, Plasterboards, Insulation, Timber & Flooring all seeing higher than market average increases. Does this emphasize the fortitude of the industry in riding through this challenging time, with better days hopefully ahead? Time will tell.
"Q3 should provide some smoothing of these short term weather trends, as well as a more realistic outlook on how the industry has progressed in 2019. The 31st of October deadline is just around the corner; will this deliver the end of these gloomy and turbulent times? In this current political climate who can tell."
About the BMBI
Produced by MRA Marketing, the Builders Merchant Building Index report contains data from GfK's Builders Merchants Panel, which analyses data from over 80 of generalist builders' merchants' sales throughout Great Britain. The full report with index tables and charts is available to download at www.bmbi.co.uk/.