Builders' merchants' sales increase in July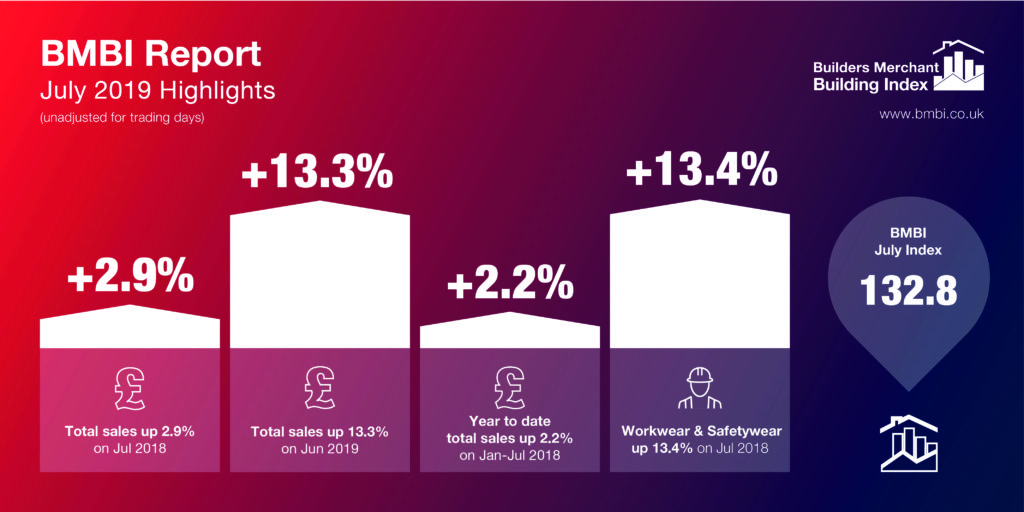 Total Builders Merchants value sales to builders and contractors in July were up 2.9% compared with the same month last year. Workwear & Safetywear (+13.4%), Kitchens & Bathrooms (+6.4%), Plumbing, Heating & Electrical (+6.0%) and Landscaping (+5.6%) displayed the largest increases.
The Heavy Building Materials category was slightly less positive at 2.9%, while Timber & Joinery sales were flat (-0.1%). However, when adjusted for trading days, Total Builders Merchants sales were down 1.6% on July 2018.
In the monthly comparison with June 2019, Total Builders Merchants sales were up 13.3% in July, though much of this growth was due to the 3-day difference in trading days. The adjusted figures show that almost all sectors performed less well in July than in June, while overall Total Builders Merchant sales fell 1.5%.
Sales growth remains positive, however, when looking at the last three months compared with February, March and April 2019, when sales were up 7.6%, and 2.5% on an adjusted basis.
July's BMBI index was 132.8, with Landscaping again the highest category at 165.4.
About the BMBI
Produced by MRA Marketing, the Builders Merchant Building Index report contains data from GfK's Builders Merchants Panel, which analyses data from over 80 of generalist builders' merchants' sales throughout Great Britain. The full report with index tables and charts is available to download at www.bmbi.co.uk/.