October monthly construction statistics update from BEIS
The latest Monthly Construction Update from the Department for Business, Energy & Industrial Strategy (BEIS), which continues to name the Builders Merchant Building Index (BMBI) as one its sources, is now available.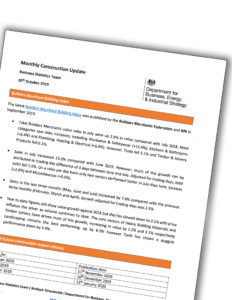 Highlights from the October edition of BEIS' construction update include the latest BMBI figures, which were more positive than June's and showed that value sales in July were up 2.9% in value compared with July 2018. In the monthly comparison, sales in July increased 13.3% compared with June 2019, but much of this increase can be attributed to a trading day difference of 3 days. Adjusted for trading days, total sales fell 1.5%.
The Office for National Statistics' figures showed that construction output in August 2019 increased by 0.1% in the three-month on three-month all work series; driven by a rise in new work of 0.5% but offset by a fall in total repair and maintenance of 0.8%. There was a decline of 3.5% in private housing repair and maintenance. In the monthly series, construction output increased by 0.2% in August 2019.
Also included in the construction update is the latest edition of the Monthly Statistics of Building Materials and Components, which is published by BEIS. This showed that annual materials price inflation in August 2019 was 1.7%, down from 2.2% in July. Prices for all types of construction have increased steadily since early 2016 but have started to fall in recent months. The biggest price increase was for insulating materials (thermal or acoustic) which rose by 12.8% compared with August 2018. The biggest decrease was for imported plywood which fell by 17.4% over the same period.
Moving onto indicators for September, there were more downbeat news in IHS Markit CIPS' latest construction purchasing managers index. This showed that construction sector PMI in the UK fell in September to 43.3, down from 45.0 in August and signalling a more severe downturn in building activity. The deterioration was the second strongest since April 2009 and spanned all three categories of construction work. This was led by the sharpest reduction in new work since March 2009. Commercial work continued to be the
worst-performing category, falling at the fastest rate since April 2009, while residential activity also fell for the fourth successive month.
The construction update report from BEIS is available for download below, or on the Construction Leadership Council's website.
Download Construction Update Report
BMBI, a brand of the BMF, is the most reliable source of data for the RMI market. It reports on merchants' sales to builders and other trades using data from over 80% of generalist builders' merchants, by value. The merchants provide sales data to GfK's ground-breaking Builders Merchant Panel and MRA Research uses this data to produce monthly and quarterly reports. Leading industry experts are also a key part of the Index, speaking for their markets, explaining trends and adding context to the data.