Builders Merchants Industry Forecast Report
The BMF have released the Q2 edition of their recently launched Builders Merchants Industry Forecast. More information is available from the BMF.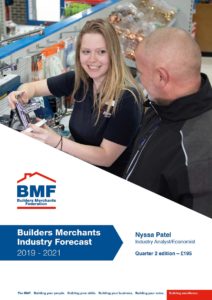 While Builders Merchants Building Index (BMBI) data, which is provided by GfK and is based on actual sales category performance, has enabled users to see which products and regions are currently growing, the forecast report takes this one stage further to meet the industry's need for accurate forecasting.
The BMF forecast model incorporates several lead indicators to signal future events that will impact our markets.
Using BMBI data coupled with advanced modelling techniques the BMF have developed a channel specific forecasting model to show what is likely to happen in the next 12 months, making it possible for merchants and suppliers to forecast their customers' requirements more accurately.
The report is updated on a quarterly basis, with the Q2 edition available now.  The forecast report can be downloaded by BMF members free of charge – once logged in – here.
Non-members can purchase the report by contacting Nyssa Patel on 024 7685 4994 or email nyssa.patel@bmf.org.uk