Merchants' sales fall as Brexit deadline nears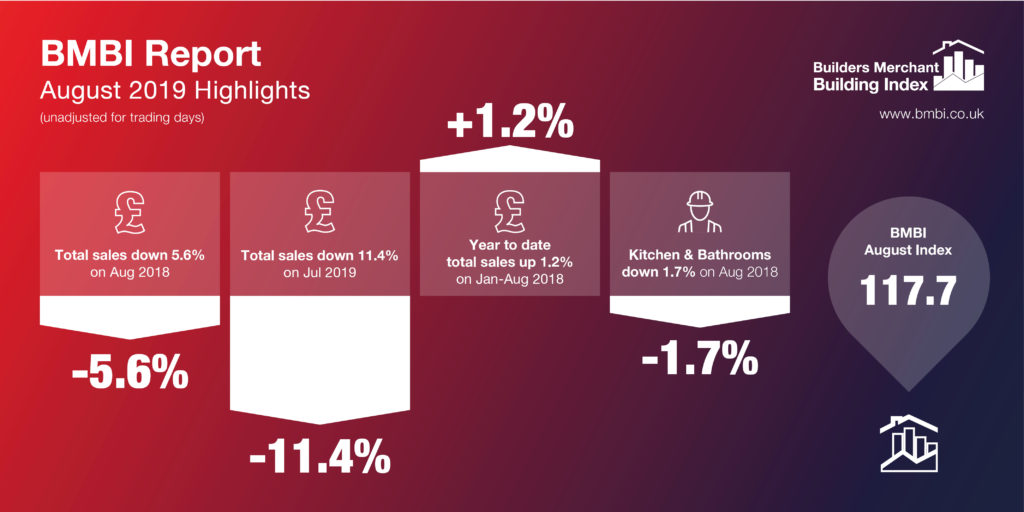 After a strong start to the year, growing uncertainty around Brexit led to a marked slowdown in merchants' sales in Q2. As the deadline looms closer it's clear that the current uncertain climate continues to impact negatively on merchants' sales.
Total Builders Merchants sales in August 2019 were down 5.6% compared with the same period in 2018, on one less trading day. On a like-for-like basis, however, the decline was only 1.1%. The best performing sector in August was Kitchens & Bathrooms, which increased by 3.0% year-on-year, on an adjusted basis.
Other sectors which recorded positive growth on an equal number of trading days included Plumbing, Heating & Electrical (+2.3%), Workwear & Safetywear (+1.8%) and Ironmongery (+1.5%). However, some key sectors saw sales fall even on an adjusted basis, including Timber & Joinery, which was down 5.2% in August, Tools (-7.1%) and Heavy Building Materials (-0.8%).
Compared with the previous month, August 2019 sales were down by 11.4%. When adjusted for the two-day trading difference, the decline was 2.9%. Sales in the Landscaping (-9.5%), Timber & Joinery (-2.1%) and Heavy Building Materials (-3%) sectors were significantly down, and all product categories saw sales decrease in August compared to July.
Sales in the rolling 12 months September 2018 to August 2019 were up 1.6% on the same period last year. Year-to-date sales also remained positive at 1.2% compared to August 2018.
August's BMBI index was 117.7, with Landscaping the highest category at 136.7.
About the BMBI
Produced by MRA Marketing, the Builders Merchant Building Index report contains data from GfK's Builders Merchants Panel, which analyses data from over 80 of generalist builders' merchants' sales throughout Great Britain. The full report with index tables and charts is available to download at www.bmbi.co.uk/.